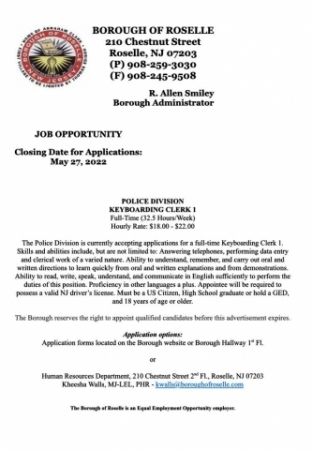 JOB OPPORTUNITY
Closing Date for Applications: May 27, 2022

POLICE DIVISION
KEYBOARDING CLERK 1
Full-Time (32.5 Hours/Week)
Hourly Rate: $18.00 - $22.00
The Police Division is currently accepting applications for a full-time Keyboarding Clerk 1. Skills and abilities include, but are not limited to: Answering telephones, performing data entry and clerical work of a varied nature. Ability to understand, remember, and carry out oral and written directions to learn quickly from oral and written explanations and from demonstrations. Ability to read, write, speak, understand, and communicate in English sufficiently to perform the duties of this position. Proficiency in other languages a plus. Appointee will be required to possess a valid NJ driver's license. Must be a US Citizen, High School graduate or hold a GED, and 18 years of age or older.
The Borough reserves the right to appoint qualified candidates before this advertisement expires.
Application options:
Application forms located on the Borough website or Borough Hallway 1st Fl.
or
Human Resources Department, 210 Chestnut Street 2nd Fl., Roselle, NJ 07203
Kheesha Walls, MJ-LEL, PHR - kwalls@boroughofroselle.com
The Borough of Roselle is an Equal Employment Opportunity employer.