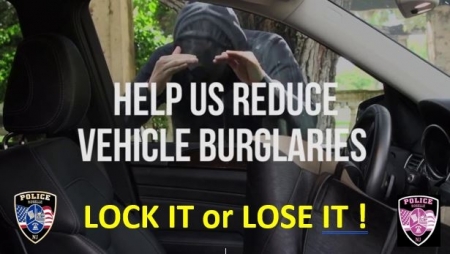 The Roselle Police Department is urging residents to assist in reducing motor vehicle burglaries by following a few simple steps to make your vehicle a less attractive target. LOCK your car, TAKE your keys and HIDE your belongings. Please don't hesitate to call the police department if you see any suspicious activity. Follow the #9PMRoutine -
An easy way to remember your #9PMRoutine is to:
Set your smart phone alarm for 9:00 pm and then….
- Remove your valuables
- Lock your vehicles
- Secure your house and garage
- Turn on your outdoor lights
- Check your cameras to make sure they're working
- Call the police immediately if you see anything suspicious